Boundaries at Work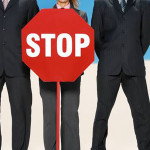 A boundary is something that defines territory.
Is there someone in the office who talks so loud you can't think? Do co-workers take your supplies and use your equipment without asking? What about the colleague who is ALWAYS late? We call these people "boundary busters". Their behavior seems disrespectful, inconsiderate, and just plain rude.
The Business of Boundaries meeting kit teaches your team how to work better together by setting healthy boundaries at work. Participants gain techniques for dealing with noise, lateness, emotional outbursts, chatty coworkers and much more.
Listen to an excerpt