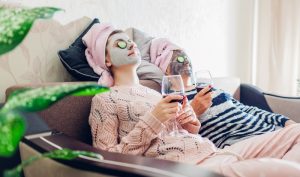 Remember the good old days of summer, when we had summer Fridays off and two-week vacations that we planned all year long? If you are like me, you have a favorite spot; mine is on Fire Island. Nothing fancy, but a small cabin on a private beach with a really good restaurant. It's a total release into peace and rejuvenation. Got the picture? I'm sure you have your slice of heaven as well.
Well for most of us, that will have to wait another year. In the meantime, what is your organization doing? Encouraging you to take the time off? Still keeping summer hours? I sure hope so. Just because we won't be flying or traveling beyond a road trip, doesn't mean we don't need to take time for our well-being.
Time off is important. I'll say it again for those of you who speed-read. Time off is important. It's important for our physical and mental health. The concept of a staycation, a Canadian term coined in 2004, has never meant as much as it does today. Take your summer Fridays off. Take your vacation time off. Take your PTO time off. Take whatever your company is giving and use it for yourself. 
Let's consider a few ways to use your time off to rejuvenate and refresh.
But first, you must obey the Three Laws of Vacation by K Squared:
1 – Do not check your email or do any work. (If you must, make it once a day.)
2 – If your work involves screen time (of course it does) stay off your screen.
3 – Detach from work – do not think about it. (Read Working with You Is Killing Me to learn how to detach.)
Here are a few ideas that can help you stay off email, limit your screen time and detach from work:
Hiking – It might be a road trip, or maybe you have trails where you live. Look for something less traveled or less known.
Home Spa – Who doesn't need a mani-pedi or a facial?

 

Take a long hot bath with soft music, candles and essential oils.
Games – crossword puzzles, puzzles, board games, words with friends.
Ordering in from restaurants that you have never tried – Maybe a higher quality or something you have wanted to try but have not gotten around to it.
Cooking from an online food service.

 

Order online from Blue Apron, Eataly, Omaha steaks, or any service you've wanted to try. Use their recipes and ingredients to have a new experience.

 
Day trip scenic drives – Take in some history or visit something beautiful.
Self-care day at home – Sleep in, have a glass of wine early in the day. Watch TV.

 

Stay in bed and meditate.
Staycations are not like traveling to my place on Fire Island where the environment takes you in. Staycations take effort, focus and vigilance. You need to be creative and resourceful enough to not let boredom, work, and just doing nothing take over. Plan your time off and use it to your benefit. The effort and planning will pay off.
Kathi Elster – Executive Coach and co-owner of K Squared Enterprises.
Contact us at info@mycrazyoffice.co for any further help around this topic.