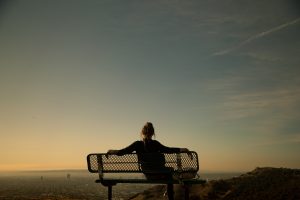 With all of the upheaval and uncertainty we are facing, it can be more challenging than ever to be in the present moment. With the threat of another wave of COVID-19, with the death and losses already endured from the virus, with the pain and outrage over police brutality and the many forms of institutional racism that plague our communities, our emotions are running at a high pitch. Our minds either race forward to predict outcomes or look back to assign blame. 
No matter how angry or sad or anxious you are, coming into the present moment can help.
Being in the present moment gives us the chance to take a break from projecting forward with catastrophic images, from obsessing about what is coming. Being present creates the space to feel our feelings, breathe into our bodies, and slow down the racing mind. 
Being present is not a solution to the many challenges that lie ahead, but it is a tool for managing our feelings and projections more effectively, so that we can take constructive actions in the short term. 
If, for example, you find yourself constantly worried about the future of your industry or concerned about losing your job, being present can give you the headspace to examine the reality of your current situation – exactly what is happening – and generate a list of small actions that you can take to protect yourself right now.  
How do we bring ourselves into the present moment?
Breathe – Check your breath right now. Is it shallow or deep? Is it fast or slow? Are your chest and shoulders tight or loose?

 

Can you feel your stomach going in and out? Breathing slowly, deeply, consciously for 5 – 10 breaths will do more than anything to take you out of your head and put you into your body. Regular deep breathing will take your mind out of obsessing about tomorrow and into dealing with today.

 
Exercise— We've said it before and will say it again, exercise is a great way to move the emotional and mental energy in your body, to release tension and stress, and to ground you in the present moment.

 

The more wound up you feel, the more you will need to exercise. Run, walk, do video workouts, try yoga, play a sport – if any of these options work for you, make sure to do them.
Take an inventory – This tried and true technique for getting out of your head and coming into the present moment involves answering five questions that examine your current reality and clarify your options: What's happening here (what is the story that has you emotionally wound up)? What are the facts? What is beyond my control? What is in my control? What are my options?
Meditate – Meditation is not about rising above what's happening, it's about learning to sit with whatever feelings and thoughts you have so that they aren't just surging through your body creating discomfort. You can try meditating on your own or enlist the help of an app like Headspace, Calm, or 10% Happier. Whatever form of meditation you attempt will help usher in the present moment.
As we venture back to work, as we contend with the many public health, economic and societal challenges ahead, it is worthwhile to make a concerted effort to stay in the present moment as often as possible. By grounding ourselves in the present moment, and making short term plans, we can turn sadness into compassion, anger into activism, and anxiety into constructive planning.
Katherine Crowley – Career Therapist and co-owner of K Squared Enterprises.
Contact us at info@mycrazyoffice.co for any further help around this topic.