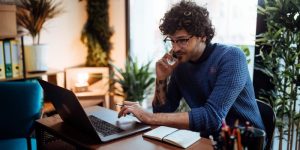 If you're new to working remotely or have experience but still find yourself getting distracted, here are our tips for staying focused and productive:
1 – Set up a designated office space (not the dinning room table if you have to move everything for your family dinner). It should be a real space where you can have a proper chair, good lighting and a place for what you need.
2 – Be sure that you have good Wi-Fi connection, and enough plugs to keep your technology going.
3 – Create an attractive video backdrop for when you are on a video call. Include items like flowers or a beautiful painting – not a messy closet, or a cluttered living room. The more professional you look, the better your outcome will be.
4 – Wake up at your usual workday time every day. Keep your schedule.
5 – Try to get in a workout. Use YouTube or any other form of support.
6 – Dress for work. You never know when you might have to jump onto Zoom, Skype or a video conference call. Casual attire is fine, but get dressed, comb your hair, apply light makeup, and do whatever makes you feel good about yourself.
7 – Prepare your breakfast (and maybe lunch) as you would for work. Try to avoid the kitchen and refrigerator while you work. They can be a big distraction during the day.
8 – Log in to work at the usual time. It may be good to start your workday with a company or department go-to-meeting so that you feel connected.
9 – Go for a walk midday – if allowed in your community (keeping 6 ft. from others).
10 – Stay on purpose and stay in touch – over communicating is necessary at this time.
11 – Check on your co-workers. Think of creative ways to reach out to your clients. Giving without expectation may go a long way at this time.
12 – Pets and Kids – if you have a door to your office you are in luck but, if not, try to minimize interruptions. Depending on who you are talking to it might be OK if your puppy barks or your 3 year old wants to sit on your lap. But in certain circumstances either get support from someone else in the house or take that meeting in a more secure space with a door.
13 – Close your office at the same time each day. Try to maintain healthy boundaries between work and homelife. Check for evening emails the same way you always do.
14 – To avoid the isolation, turn on the news in the background.
15 – Remind yourself that this is not permanent.
Kathi Elster – Executive Coach and co-owner of K Squared Enterprises.
Contact us at info@mycrazyoffice.co for any further help around this topic.