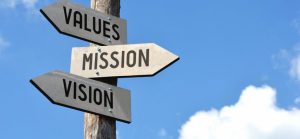 The CoVid-19 Pandemic quarantine has forced many of us to slow down and become quiet. When we become quiet we have the opportunity to hear our deepest thoughts.
If you still have your job you might be asking yourself, "Is my work fulfilling my purpose?" If you lost your job you might be thinking, "I want more meaning and purpose in my next position." If you run your own business you might be thinking, "How can my business be more aligned with my purpose and passion?"
Many of my clients have told me they find themselves thinking deeply and wondering if now is the time to pivot and move towards finding the work they really want. Many are seeing that they are in fact doing work that is meaningful to them. And some are asking themselves, "OK, what really matters to me and what's next?"
In order to connect to your purpose, start by identifying your values. Take a few minutes to answer the following questions:
1 – What are 3 experiences in your life that left you feeling proud and on purpose?
2 – What are 3 experiences in your life that gave you the greatest peace and satisfaction?
3 – What are 3 experiences in your life where you felt most alive?
4 – What are the 3 qualities that you find most admirable in other people?
5 – What 3 words explain you at your best?
6 – 200 years from today, what is the one thing you'd like people to say about you?
The answers to these questions will give you a clue into your deepest values, which are the down payment on your purpose.  
In my work I find that the most fulfilled people are the ones who do not compromise their values and by doing so they end up in a workplace that gives them purpose.  
My client and friend Carol is the most loving and compassionate person I know. 
I originally met her when she worked in HR for a Hospice. It's no wonder that she now works for an organization that houses the homeless, overseeing their 950+ person staff.
I have another client who, after law school, worked for an organization that did legal work for women who were sex trafficked. It's no surprise that today she works to better the lives of under-privileged children. 
I also have an extroverted, artistic client who's always found meaning in making sure that others are happy. She became a photographer that shoots weddings and other happy occasions.
Finding your values to understand your purpose will contribute to your passion and ultimately support your performance. In a loud business world that touts money, overdrive, and prestige, it can sometimes feel second class or not truly business smart to care about being true to yourself. Do not be afraid.
Over the 30 years that I have been advocating living your purpose and values, I think now is the time to make Living Our Purpose the way to go!!!
Kathi Elster – Executive Coach and co-owner of K Squared Enterprises.
Contact us at info@mycrazyoffice.co for any further help around this topic.