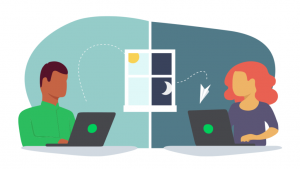 If you are one of the lucky ones to have a good job it is your responsibility to make your work stand out to ensure that you are not on the short list if there are any future layoffs.
As an executive coach, I know my clients are concerned about being noticed by their managers. This is particularly important for those who tend to be more introverted, or those that might have been on the outs with their supervisor prior to the quarantine. Even if you are only part-time or a consultant, it's time to step up your game.
Here are a few tips that will help:
1 – Arrive a few minutes early to all conference calls and videoconferences.
I have a strong opinion on this one. I feel that lateness shows disrespect and disorganization. Being early gives you the time to relax, prepare and say hi to everyone else. You will be noticed.  
2 – Maintain regular business hours.
We are working our way through an unusual time where many of us have responsibilities at home beyond our jobs.  Flexibility is key for many of us to be successful now. With that said, if you need to have a different schedule be sure that others know. But, try to have a consistent schedule. The last thing you want said about you is "I have no idea where so-in-so is."
3 – Always answer your bosses phone calls.
Sounds simple, so why is it so hard? Keep your phone next to you at all times. Keep the ringer on if that helps. If you have to walk around, put your phone in your pocket. Being available and responsive will give your boss the idea that you are there for him/her.
4 – Answer emails ASAP
I know this can be challenging but remember "Out of sight, out of mind." Since you are not visible to your boss and coworkers, answering emails is the second best way to be seen.
5 – Do your best work.
That's right, put in a little more effort. Perhaps you can use technology that you have not used before; learn how to create charts or design more elaborate presentations. Show how you are learning and growing.
6 – Do not procrastinate on any assignments.
If you are someone who does procrastinate, it might be challenging for you to stop procrastinating during this difficult time. But now is better than never. If you are someone who does not procrastinate, you might not have the energy to be on top of your projects at this time. Trust me your boss will notice who he/she can count on.
7 – Be proactive. 
Now is the time to think out of the box. If you have an idea for your company, write a proposal. If you have a new way of solving a problem that your team has been working on, create a presentation and ask for a meeting. If you have strong tech skills, you may want to help others who are less inclined.
Speak up, show up, or run the risk of going unnoticed.
Kathi Elster – Executive Coach and co-owner of K Squared Enterprises.
Contact us at info@mycrazyoffice.co for any further help around this topic.