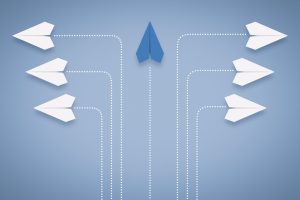 During this pandemic, it's our essential workers who can travel and physically go to work while the rest of us shelter at home. We naturally and deservingly celebrate these dedicated and courageous members of our workforce. We are forever grateful to our medical workers, police and firefighters, EMT's, transit workers, mailmen, package delivery folks, food delivery people, supermarket personnel, liquor store workers, military etc.
If you are not considered an essential worker today, that does not mean your work is not important and essential at other times. But, many of my clients are wondering how they can be of service at this time. Some are feeling sad that their work is not needed, and some are discovering what can be essential in what they are doing.
How do you become essential? By making your product or service useful to your customers at this time.
For example, you may want to offer your product or service at a very low cost today in order to insure business in the future. If you have a product, it might be time to put that product on sale to make it more desirable. If you are a hairstylist, fitness trainer or home organizer, you may want to reach out to your clients and see if you can help them do some maintenance with a video call. 
If you are a travel professional, it could be time to reach out to your customers and talk about future trends, or get them excited about what's next. It's best to stay in touch. Remember out of sight before you become out of mind.
Ask yourself:   
What will my customers need when we emerge – immediate & long term?
Should we package our work differently – maybe online?
Should we redesign our pricing to incentivize for a while?
How can we celebrate our business as essential and necessary?

 

How can we make it available immediately for service or delivery?
How can we celebrate our customers with something that is essential?

 
Think out of the box and be generous. Think Strategically:
Be useful
Be helpful
Be grateful
Be forward thinking
Be resourceful
Be creative and original
We are all in this together, and together we will get through this. All of our customers and clients will once again need us more then they need at this time. Business will resume. The economy will come back, and so will our work.
Kathi Elster – Executive Coach and co-owner of K Squared Enterprises.
Contact us at info@mycrazyoffice.co for any further help around this topic.