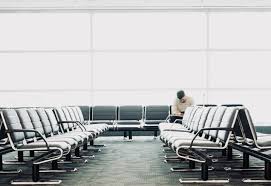 I don't know about you, but I hate to wait. When faced with a long line at a store, a movie, a food bar or even a gas station, I'm the person who opts out, returning at another time when I won't have to wait. In fact, until March of this year, waiting for anything seemed like an immense waste of time to me.
That was before the pandemic hit. Before we were all told to shelter in place. Before we understood the importance of social distancing. And before we were asked to wait in line at stores, at banks, at any place where people congregate to conduct their essential business.
Now, waiting is a form of caring, of preventing, of dealing with a situation we don't yet have under control. We're waiting for signs that it's safe for the economy to slowly re-open. We're waiting to see how schools will operate. We're waiting to discover when and how sports teams, service businesses, and the entire entertainment industry will re-emerge.
It's hard to be waiting in so many ways for so many things. The human brain is a planning brain and we desperately want to know what comes next. That unquenchable thirst for answers can mutate into uncomfortable feelings of anxiety, frustration, impatience, agitation, restlessness and even depression.
Today, we are all Living in the Waiting Room. We won't have to be here forever, but it will be a while before we can re-launch our lives in any significant way. What follows are some thoughts about making the Waiting Room more tolerable:
Bring many forms of entertainment to the Waiting Room– good books, fun movies, knitting projects, crossword puzzles, word games, musical instruments, dance routines, sketch pads, new recipes – anything that takes your attention away from fretting, worrying or obsessing and allows your mind to be creative.
Take physical breaks from sitting in the Waiting Room – Go outside, take a run, go for a hike, yawn, stretch, shake your head and arms, walk around, pound a pillow. Physical movement helps move emotions through your body. Feelings of impatience, frustration and agitation can be reduced by increasing blood flow.
Connect with other people in the Waiting Room – We've heard over and over that we are in this together. Nothing confirms that more than striking up conversations with others who are waiting. Even if the novelty of video conferencing has worn off, it's still essential to reach out to the people you care about and make contact. Human connection lessens anxiety and makes us feel less adrift.
Try not to obsess about when you're getting out of the Waiting Room – This is a hard request. You know that person in the waiting room who paces back and forth, looks at the time, stares at their phone, insists on being the first to be informed? Don't be that person. Understand the limits of endless news briefings, medical predictions, scare tactics, and conspiracy theories. None of those items are going to get us out of here faster. And everyone is working on getting things moving again.
One other thing about the Waiting Room – each person, each family has their own set of concerns, their own set of pressures that they are juggling.  Appreciating that we are all dealing with different conditions is part of living in the Waiting Room. You don't have to feel guilty if your conditions are less difficult than others, but you can be respectful and appreciate the wide range of challenges that each person in the Waiting Room is managing.
Katherine Crowley – Career Therapist and co-owner of K Squared Enterprises
Contact us at info@mycrazyoffice.co for any further help around this topic.