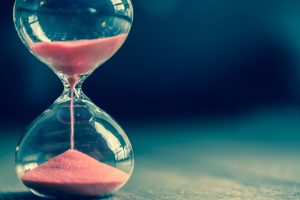 As many of us move through week nine of sheltering in place, it becomes more and more difficult to simply "keep calm and carry on." 
Some of us may have started the quarantine with high hopes of a brief but successful period of isolation. Some of us may have used this time to launch creative projects, institute family activities, or get busy with different forms of home improvement. And some of us may have been contending with the actual virus – either because we contracted the illness ourselves or because a family member contracted it. 
Whatever your experience has been during this time, I can guarantee that it hasn't been easy. It's likely that you've had days of great productivity, and days of no productivity. You've felt good at times, and lousy at other times. You've probably encountered moments of hope and clarity followed by moments of hopelessness and confusion. 
Why does this matter? It matters because as we continue to cope with COVID-19, it's important to also practice patience with our own process. Being patient with your process means you make room for your feelings, forgive your mistakes, and allow yourself to start again. 
Don't minimize your experience. It can be tempting to engage in comparisons regarding your suffering versus the suffering of others. You may feel that because you didn't contract the virus or lose your job, you have no right to have bad days. This attitude minimizes your experience and squelches your emotions, which does not help you feel better. You can feel badly for others and still pay attention to your experience.

 

Give yourself permission to have a range of feelings. It would be normal to cycle through a wide range of feelings at this time – anxiety, sadness, anger, frustration, excitement, happiness, irritation, relief. All of these feelings are probably moving through you. Think of emotions as "energy in motion," the more you acknowledge them, the faster they pass.
Don't beat yourself up if you slip into unhealthy habits. I've spoken with a number of people who find themselves over-eating, over-drinking, over-texting, obsessively playing video games or shopping online. If you have an unhealthy habit you've slipped back into, do your best not to beat yourself up. Instead, reach out for support and try to get healthy again.
Allow yourself to start again. If you have a bad day, perform poorly at work, or fail to meet your own expectations some way, allow yourself to start again. It can be tempting to mentally punish yourself for mistakes and missteps. This does not help. Be patient with yourself and simply promise to do better next time.

 

Ask for support if you need it. You may want to seek the support of a close friend, an understanding family member, or a professional coach or counselor. Asking for support is an important step in giving yourself room to express what you are going through and feel understood.

 
Being patient with yourself may seem anti-intuitive during a pandemic. You may think that you should to be alert and on-the-ball at all times. But practicing patience with yourself will actually help you feel better, perform better and be more patient with others during this incredibly stressful time.

Katherine Crowley – Career Therapist and co-owner of K Squared Enterprises.
Contact us at info@mycrazyoffice.co for any further help around this topic.